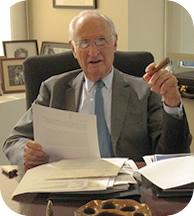 Before co-founding Culbro, LLC, Edgar Cullman, Sr. had a long and distinguished career as the chief executive of General Cigar and Culbro Corporation, the parent company of General Cigar during the 1970s – 1990s.
During the nearly 45 years he ran the company, he grew it into the largest premium cigar manufacturer and marketer in the United States. Over the years, the company introduced popular brands like the Tiparillo and its famous ad campaign "Should a gentleman offer a lady a Tiparillo?", White Owl, William Penn, Robert Burns, Garcia y Vega, and later Macanudo, which became the number one premium cigar in the United States. He was personally responsible for the decision to launch the Macanudo brand and was very involved in developing its unique blend.
Over the years, Edgar, Sr. grew the company organically and through acquisition. He also acquired Cuban brands such as Partagas, Punch, and, Hoyo de Monterrey. During the difficult years of the mid-70s, he diversified into snack food, publishing, packaging and labeling systems, wholesale distribution, laxatives, real estate and financial services.
While running a substantial business, Edgar, Sr. always found time to be involved in civic and public affairs. He was a trustee of the Mount Sinai Medical Center for over fifty years and was its honorary vice chairman. He was also a trustee of The Hotchkiss School, from which he graduated in 1936, for over thirty-three years and served as president of the board from 1987-1993. A graduate of Yale ('40), he also served on the Yale Development Board and was awarded the Yale Medal in 1992 and the George Herbert Walker Bush Lifetime of Leadership Award in 2005.
Edgar, Sr. was known for his interest in Yale football (attending nearly every game). An avid sportsman, he was a tennis player, horseback rider and salmon fisherman. He was president of the Restigouche Riparian Association for over 25 years and also on the Atlantic Salmon Federation Board. In 2006 he was awarded The Lee Wulff Salmon Conservation Award.
Edgar, Sr. was on the boards of Bloomingdale Properties, Inc. and Griffin Land & Nurseries, Inc (now called Griffin Industrial Realty). He also served as a director of the Mutual of Omaha and on the boards of Companion Life Insurance Company of New York, M. Lowenstein Corporation, US Rubber Reclaiming, Inc., Studebaker-Worthington, Inc., and Centaur Communications.
Edgar's beliefs – especially in quality and in brand names – are at the core of everything Culbro, LLC does from an investment perspective.